With her slim silhouette and practical metal zipper, Uma is a reliable companion for many occasions. The bag features an elegant hand strap made of tone-on-tone cork fabric and matt black edge coating. The smooth-running silver zipper makes the content easily accessible.
Uma is also an excellent addition to our tote bag Cala. Attached to its key ring, it becomes a colour-matching inner bag and a safe place for small items, cosmetics or your wallet.
Discover Uma as a set with our tote bag Cala.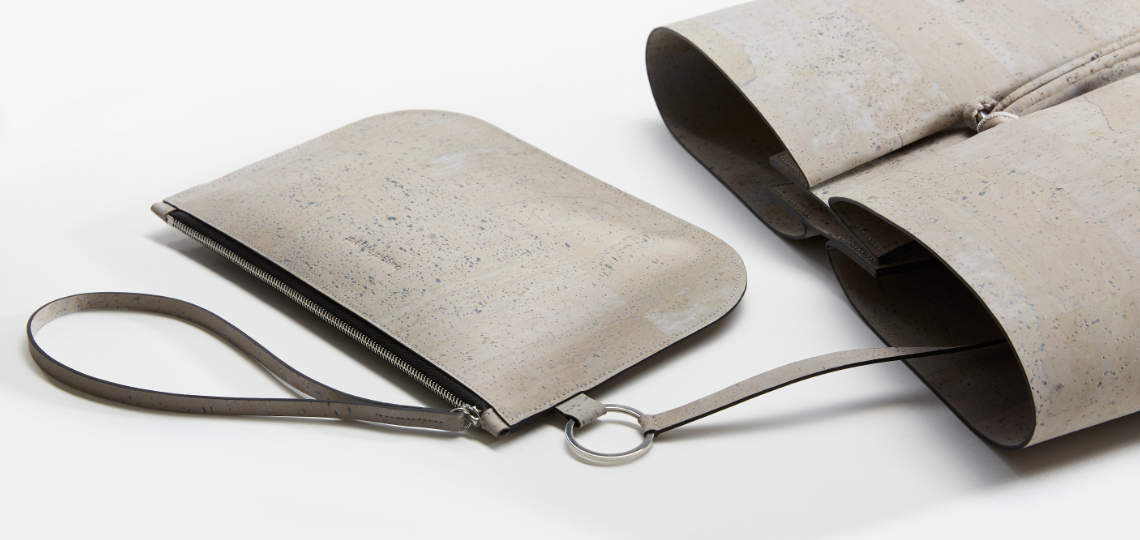 Image above: Uma and Cala in birchgrey
Uma is made from premium cork fabric from Portugal – a highly durable, abrasion and wear resistant material with naturally waterproof properties. The cork layer is bonded to a soft textile backing. Cork is a vegan material with a warm touch and matte surface finish. Naturally occurring variations in the cork skin make each clutch a one-of-a-kind.
Uma is also available in birch grey, black and graphite grey.
26 x 16,5 x 0,4 cm
55 grams
Handmade in our studio in Bad Liebenzell
Premium cork fabric from Portugal
Soft black cotton inside
Edge coating with ultra-matte finish
Silver metal zipper with polished teeth
Hand strap made of Portuguese cork fabric
Embossed logo on front and back
Dustbag included
PETA-Approved Vegan