Since 2017, we stand for pure design made from plant-based materials, consciously handcrafted in our studio. Each of our materials is carefully selected and tested and has its own unique advantages.
//
MIRUM®
#plantsnotplastic
In 2023 we made an extremely exciting addition to our range of materials. MIRUM® is the plant-based leather alternative we have always been looking for. The material innovation from US company Natural Fiber Welding is a categorically new material with the supple look and feel of leather, but completely animal-free. MIRUM® consists exclusively of natural ingredients such as cork flour, coconut fibres, rice hulls and natural rubber and is the first vegan leather that is 100% plastic-free. MIRUM® is heavier than cork, water-repellent and extremely durable. Its clarity and elegance perfectly support our purist design.
//
CORK
#beautifullylightweight
Portuguese cork has been our material of choice since 2017. Cork is an ideal material for bags. Due to its lightness, all our bags made of cork have a minimal weight, they only become heavy because of what you carry in them. In addition, cork has an exceptionally beautiful grain, which we emphasise through our puristic design and which makes each bag a one-of-a-kind. Cork is naturally water-repellent and easy to care for.
Explore our Cork-Collection:
Cork shoulderbags
Cork clutches
Cork backpacks
Cork wallets
Cork tote bags
KORK IN DETAIL
Cork – A plant-based material with European origin
Cork is the bark of the cork oak, which is native to the western Mediterranean region. Portugal's cork oak forests (Montados) are a unique ecosystem and habitat for a variety of animal and plant species.
Why patience is key when it comes to cork harvesting
A cork oak has to reach an age of 20 to 25 years before it can be peeled for the first time. The cork harvest is a traditional craft in Portugal. The removal of the bark requires the experience and skilled hands of two men for each tree. The workers peel off the bark without harming the oak. Harvesting cork actually increases the tree's lifetime expectancy and therefore helps to preserve one of the richest ecosystems in the world. After a natural regeneration phase of about nine years, the tree can be harvested again for an average of 150 to 200 years. Equally surprising, the cork oak increases its ability to absorb CO2 by five times during the regeneration process.
How flexible textiles derive from cork
After the harvest, the cork planks are stacked in piles and remain exposed to sun, wind and rain for six months. During this time, the raw material matures and stabilises. The cork planks are then steamed to remove dirt and increase flexibility. Later on, the cork is pressed into blocks, sliced into thin sheets and bonded to a textile backing.
Our colour range
Cork is best known for its characteristic caramel beige colour. However, cork can also come in other shades. For our collection we use fine Portuguese cork that is coloured with water-based dyes. Our muted colour palette makes the cork fabric look extraordinary and extremely elegant. The colours enhance its unique structure.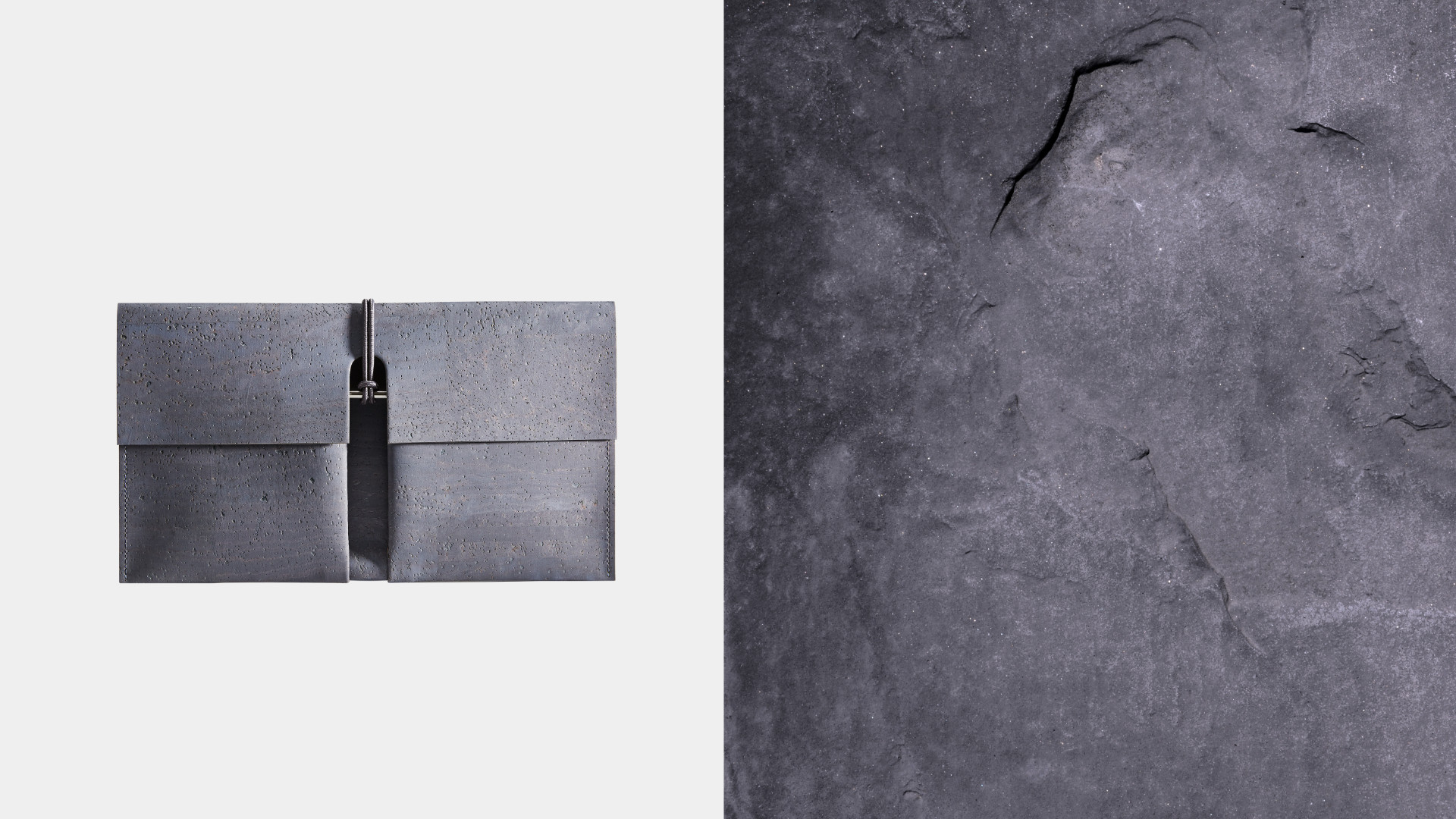 Graphite grey
This timeless dark shade is a mixture of grey and blue. It is reminiscent of dark stone, smooth concrete surfaces and due to the blue undertones the colour of the sky just before a summer rain. Bags in this colour have a great matt look and are very versatile to combine.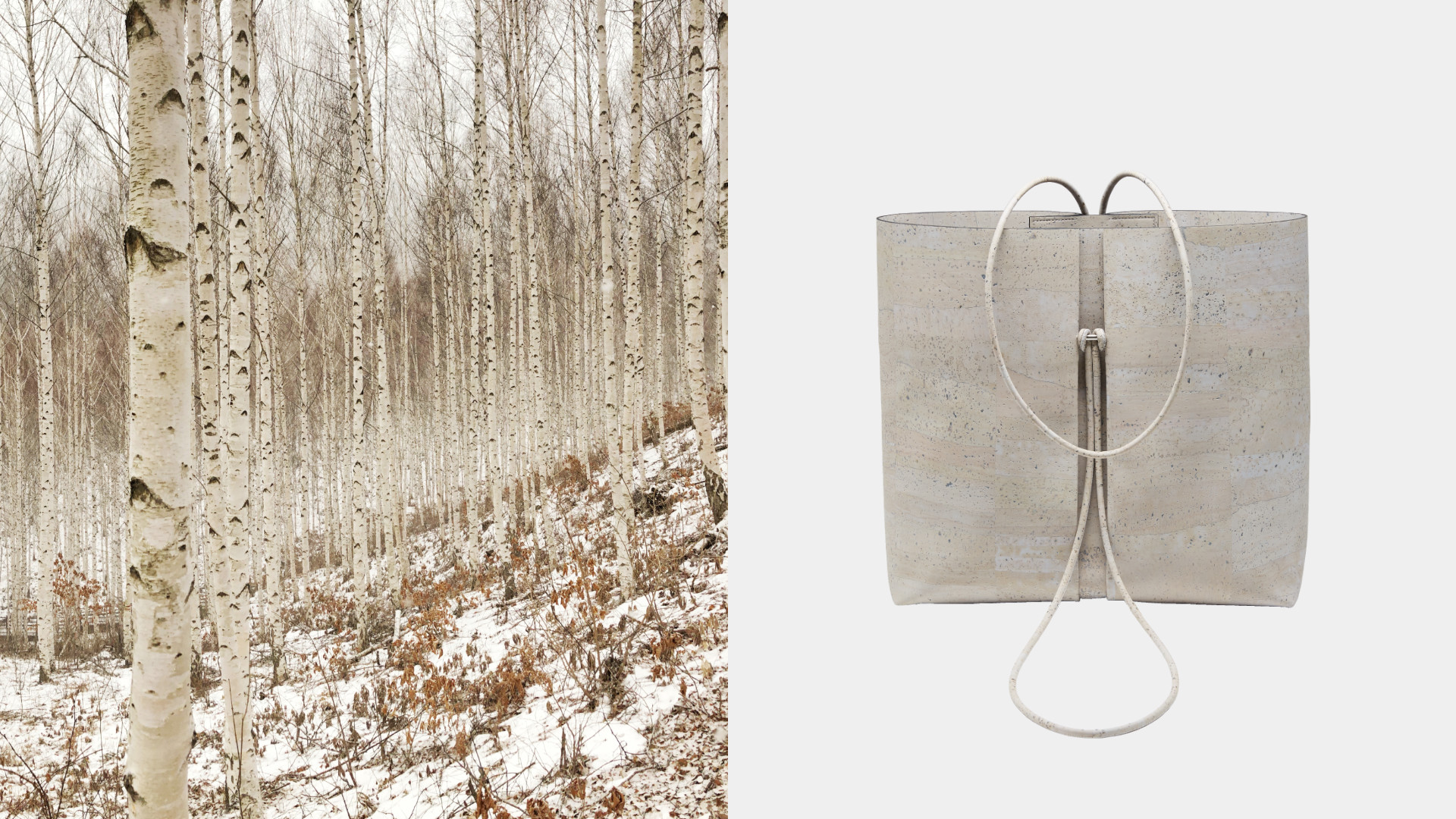 Birch grey
When you look at this light and warm shade of grey, imagine strolling through a light flooded birch grove. The natural structure of the cork is emphasised most strongly here. Grey and beige nuances alternate and make this shade look extremely lively and unique. A perfect combination with black.
Navy
A deep night blue. It unfolds its full beauty in sunlight. Dark shiny reflections shimmer wonderfully and give your bag a royal look.
Black
A classic shade for elegant bags that is great with soft colours and as a contrast to light outfits. Or try it tone-on-tone with dark clothing. In other words, you're always right with our silky matt black.
Light rose
A feminine shade that looks fresh and very modern thanks to the purist design of our bags. Light rose is extremely versatile in company of other colours: very elegant next to black, airy and light with sand tones, contrasting with red or harmonious with dark blue.
Forest green
A rich and gentle shade of green that highlights the unique grain of the cork. The deep green comes with a silky-matt finish and fits perfectly with dark outfits.
Discover the whole collection.
//
Experience what cork feels like
Our cork fabric is an extremely flexible and soft material that can best be experienced once you hold it in your own hands. We offer cork samples that give an impression of the unique cork surface and textile backing and help you find your favorite colour. Order here.