"burggrafburggraf" is nominated for the STAATSPREIS GESTALTUNG KUNST HANDWERK 2020
We are very pleased about the nomination. From 128 works delivered to the main jury 6 works were nominated. The winners of the STAATSPREIS will be announced at the award ceremony on Sunday, September 27, 2020, at the Karlsruhe Regional Council.
The STAATSPREIS GESTALTUNG KUNST HANDWERK is announced by the Ministry of Economics, Labour and Housing of Baden-Württemberg. The award-winning and other selected objects will be shown in an exhibition at the Karlsruhe Regional Council. Since 1953, this traditional event has been honoring special achievements in the arts and crafts.
//
»burggrafburggraf« receives GERMAN DESIGN AWARD GOLD 2020 for backpack Como

The German Design Awards are the international premier prize awarded by the German Design Council. Its goal: to discover, present, and honour unique trends in design. Every year, high-calibre entries in the fields of product and communication design are honoured, each of which blazes new trails in the international design landscape. The jury selects one Gold award winner in each category. The »Gold« award honours outstanding achievements in international design and is given only to the best of the best.
Statement of the Jury:
"The idea of making a backpack out of vegan cork bark rather than animal leather initially aroused the jury's curiosity and, after closer examination, easily impressed it. Not only does the leather-like material feel warm and supple, it also looks very special and, together with the elegant, clear cut and the striking pleat, lends the backpack a touch of extravagance. The support, which is moved to the front, is a clever solution that provides plenty of arm room, makes carrying more comfortable overall and also contributes to closing the bag even more securely. A great, cleverly thought-out accessory that impressively demonstrates the potential of plant-based materials as a sustainable alternative to animal leather."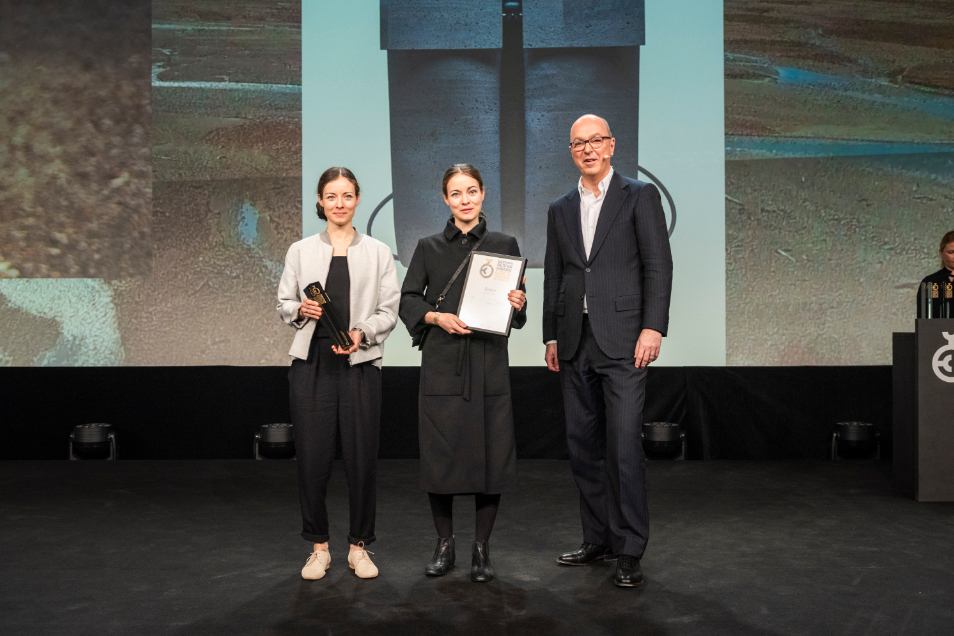 //
»burggrafburggraf« receives NEWCOMER AWARD at POTENTIALe 2018
The Newcomer Award is presented by the City of Feldkirch on the occasion of the POTENTIALe – Fair & Festival for Design.Photography.Media Art.
Jury: Ingo Türtscher (Festival Director POTENTIALe), Maya Kleber (Artistic Director POTENTIALe), Harald F. Petermichl (Cultural Director of the City of Feldkirch), Theresa Feurstein (Director Design Forum Vorarlberg)
//
»burggrafburggraf« wins BLICKFANG DESIGNPREIS 2018 in the category Fashion & Jewellery
We are very pleased that our collection convinced the blickfang Vienna jury through its precision craftsmanship, design quality and the appealing presentation.
The selection in the two categories Furniture & Product Design and Fashion & Jewellery was made by an expert jury consisting of Marlene Agreiter, managing director of the Austrian Fashion Association, the blickfang curators of the year Eva Marguerre and Marcel Besau, Sigrid Mayer, founder and managing director of EIGENSINN, and industrial designer Tino Valentinitsch.
Image credit: © blickfang
Image credit: © blickfang